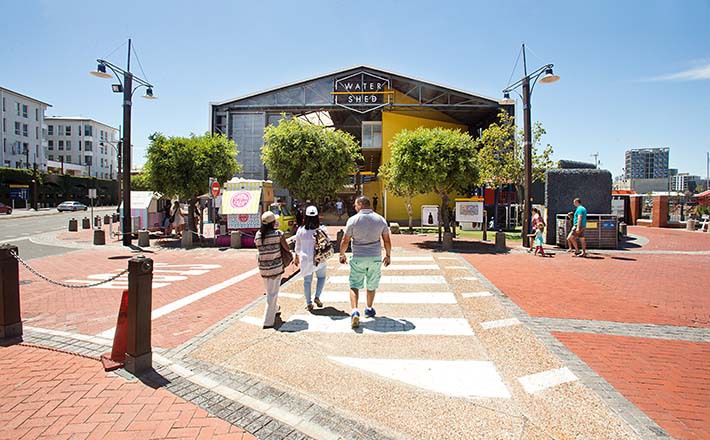 The V&A Waterfront has a long commitment to enterprise development. It showed up in the early days, in initiatives such as the Red and Blue sheds; and has matured into the establishment of initiatives such as:
The Watershed, highly curated to incubate businesses and achieve natural collision across complementary sectors
Support for aggregators such as the Oranjezicht City Farm Market and the Craft & Design Institute
Initiatives such as Ocean Hub Africa, Artist Alliance, the Retail Readiness Living Lab, the Kitchen Incubator, and the Buskers Programme – more on all of these below
Support for SMMEs ranges from access to market through to tactical development interventions.
Our approach to enterprise development is agile and responsive to emerging needs, both in our supply chain and across our precinct. The V&A puts focus on creating clusters of businesses in specific sectors. Our support is built on the foundation of relationships and partnerships and has market access at its heart.
The Waterfront has partnered with some extraordinary organisations to offer incubation programmes to small businesses, artists, performers in the Waterfront community. These incubators combine skills development with mentorship; provide spaces to create, experiment and network; and more.
OceanHub Africa
This accelerator programme is aimed at impact-for-profit startups which are focused on preserving and restoring the health of the ocean. The accelerator provides support from start to finish, from integral business model development training to connecting participants with OceanHub Africa's network of investors. The Waterfront provides co-working space, prototyping facilities, and network and market access.
Artist Alliance
For 30 years the Waterfront has been an ally to the arts. With initiatives such as 100 Beautiful Things, Joy from Africa to the World and Take the Stage, we celebrate and champion the richness of the talent, projects and people that embody the creativity and resilience of South Africa.
We have now developed Artist Alliance, an incubator platform aimed at co-creating space and opportunities for young artists to freely explore. Artist Alliance is built on the belief that through supporting a creative community we can play a role in amplifying young artist voices and fostering their creative passion. This is done through guidance, knowledge-sharing and mentor support, all of which is intended to help turn talent into marketable skills and sustainable careers.
Retail Readiness Living Lab
The Retail Readiness Living Lab is a pipeline incubator supporting purpose-led businesses to innovate, develop and refine their products, and to ready themselves for trade at the Watershed and in other markets. The programme is designed to equip them with confidence and the necessary skills.
Incubatees in the programme test their products and share their learnings in a shared retail space in the Watershed, stimulating peer-to-peer learning, and sharing expertise and resources for mutual benefit.
Kitchen Incubator
The Makers Landing Food Lab Incubation Programme is an immersive four-month food-focused business programme for start-ups and existing small businesses. Incubatees benefit from access to a food-focused business fundamentals course, a licensed commercial kitchen space, technical assistance and training in food industry techniques and business operations.
Buskers Programme
Buskers form a key part of the vibrant public spaces at the Waterfront. The Buskers Programme aims to support participants with opportunities to learn and grow through entrepreneurial workshops and one-on-one coaching and support around themes of business and income growth, as well as personal wellness. Convening regularly, the buskers are offered the chance to share their expertise, learnings and to connect with other buskers operating in the precinct.
Buskers also have access to a panel of mentors and experts to guide them on their individual entrepreneurial journeys.